Aluminium (LM6) Die-cast body and components.

Housing treated against Porosity through a special process.

Complete meshing of teeth to avoid play in the gears.

No overshooting of the pointer on the dial at the two extremes.

T

he cam assembly can be pre-adjusted as per customer's requirement to set off the alarm at any point before the empty position.

Precision positioning of magnets to ensure complete union in their movement.

The presence of only one box at the bottom of the dial offers simplicity in design and avoids

excess internal wiring in the indicator.
SO-4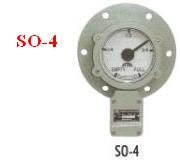 Dimensional Drawing

SO-6

Dimensional Drawing