Pressure Die Cast Aluminium flange provides compact robust construction, free of blow holes.
Deep drawn Stainless Steel operating diaphragm.
Automatic and instantaneous venting and sealing

.

Optional switch with indicator

.

IP67 protection for switch

.

100% operation test for each instrument

.

Specially designed reverse wound strings and assembly provide uniform valve loading and improved relief rates

.

Unique spring retaining system on disc and cover.
Springs specially coated to prevent rust.
Cover electrostatic powder coated for protection against corrosion.
Switch with 1 NO + 1NC contacts.
Switch with 2 NO + 2 NC contacts - optional.
Highly visible flag indicator integrated with the switch.
PRV-T3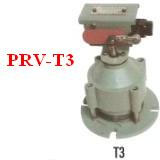 Dimensional Drawing

PRV-T6

Dimensional Drawing